Dungeon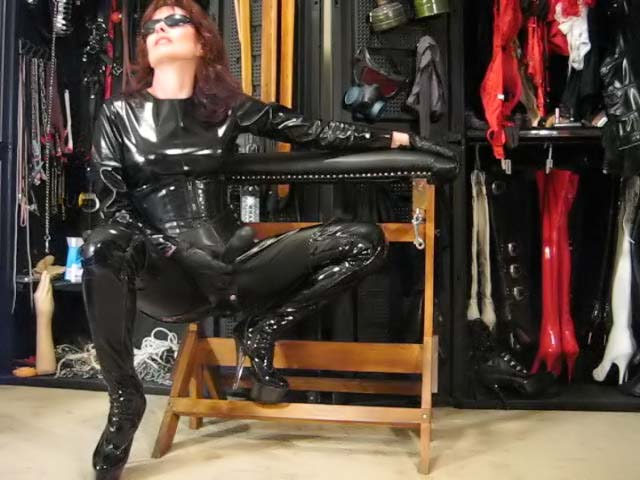 Maîtresse Cathie La Divine is a stunning, mature, strict and sensual Dominatrix.  Providing BDSM to bottoms, men and women.  She is proud to say that she has over 15 years of expertise in many BDSM facets. All her plays are Safe, Sane, Consensual with an emphasis on honest and open dialogue. When bond of trust has been established, the further She will take you. The sessions are conducted at Her exquisite private establishment or at your choice of residence.

_______________________________________________________________________
My dungeon is fully well equipped, yes…everything a sub dreams of ! My practice focus on control, I amplify on discipline and indulgence. If you are looking for more intense session, I have a large collection of canes, paddles, straps and whips. Subs can be over my lap for a good spanking. I like to use my spanking bench to restrain and break even the most unruly pig head. I also offer and enjoy sessions without physical pain and/or marks.
MY DON'T DO LIST
I will not participate in:

During a session if you ask for sex, oral sex on me or you, including rimming, ass worship, intimate body worship, call it like you want, you will be dismissed and I will keep your tuition for wasting my time. Your bitch mouth is only to be fucked by dildos, drink golden nectar. Your tongue is for cleaning & shining my foot wears and to lick and suck my perfect and luscious little toes.
When I sit on your face for breath control and smothering games, I will always wear panties, pants or a skirt.
What I do NOT offer: Anything Illegal, Nudity on My Part, Sex, Switching/Submissive sessions on My part, Dancing, Escort, Massages, Roman or Red Showers, Brown Shower, Fire Play, baby adult, enema, anything ending in 'jobs', (acceptable with your hand on you and/or with my "tools") Cuckolding Scenes, Blackmailing, Play Piercing, wrestling.

I'm a non-smoker, smokers are welcome but will not smoke in my presence.
If I detect any drugs and alcohol intake, you will be dismissed and I will keep your tuition for wasting my time. And that also means, do not try to explain that you needed to relax by having a drink before your arrival.
No heavy throat restriction or breath control to the point of losing consciousness.
Topping from the bottom. Being a dick will not incite further punishment. I'll dismiss you.
_______________________________________________________________
I will participate in:
Roleplay – Mom, Auntie, Teacher, Babysitter etc.
Traditional maternal style discipline for naughty  little boys in need of correction. Apply for the followings: Bratty School Girl, unruly boy toy for French class, under the boot of a severe and demanding French teacher.
Maternal Style Bare bottom, Over the Knee Spanking (OTK) with Hand, Paddle, Strap, Hairbrush, Belt, Tawse and Slipper.
Lecturing, Scolding, Corner-time
Face and hand slapping
Nurse, Bitchy boss, Secretary, slave training, Bossy Girlfriend,
(Nanny for baby adult, infantilism, I no longer providing this service)
_______________________________________________________________________
Foot lovers: how to give a good foot massage (video) and make Mistress happy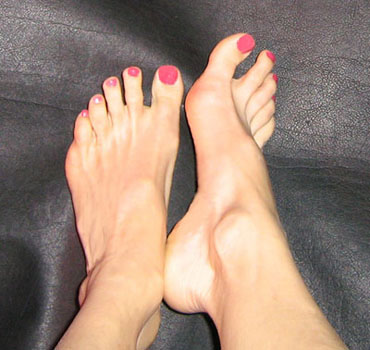 My feet can be licked, kissed, sucked. They are beautifully strong, just like my legs and my whole body. I take really good care, stay fit, strong and healthy. With my yummy feet, I also like to walk on you, bare feet or for the more advance with my heels on.  One of my favorite is to walk on you while you are on an impermeable vinyl surfaces. The technique I use with my feet allows for a multitude of new and exciting sensations both visually and physically.  You have probably never experienced before!
My sessions are completely not rushed, and allow for customizing, innovation and flexibility. This unique and exhilarating session will leave you needing a few minutes to relax and get ready to leave feeling rejuvenated and rewarded.
_______________________________________________________________________
Rope bondage also cuffs, bondage tape, self-adhesive bandages, or  restraints tied to furniture such as cross, bench, horse bench, chair, bed, etc
Humiliation: Verbal and Physical, small penis humiliation, corner time, etc.
Worshipping: boots, shoes, foot, high heels, stockings, legs
Forniphilia: Human furniture
Corporal Punishment with floggers, caning, whips, pinching, slapping & spanking with or without marks, etc.
Interrogation
Golden shower
Brown shower : no longer available
Maschalagnia
Tickle torture: I call it "laughing therapy", nice way to let stress out, until you are so exhausted.
Nipple Torture with clamps, fingers, Whatenberg wheel, wax, etc.
CBT, (cock & ball torture) mild to hard core,
Sissy Training,  Slut Training, Forced Feminization, cross-dressing
Pegging, Fisting, Figging strap-on dildo, anal play, prostate stimulation, anal dilation: starting with small dildo increasing to huge dildos and vibrators (all sizes and shapes) always with condom.
Triple Penetration – your body is penetrated in three ways at the same time: Orally by dildo with condom, by sound in your urethra (electro-stimulation can be added) and by strap-on dildo with condom or torpedo in your anus (All toys are sterilized with Isopropanol 99%)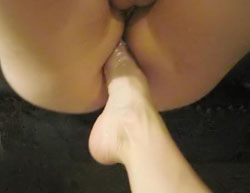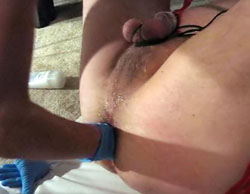 If you are concerned about the sizes of my dildos, the biggest and the smallest, here are some of them to give you an idea, my fist is in the middle.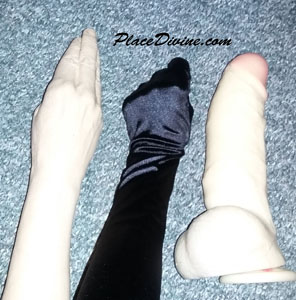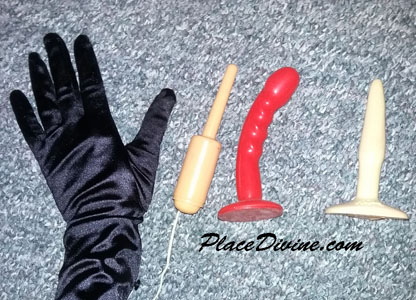 Power tools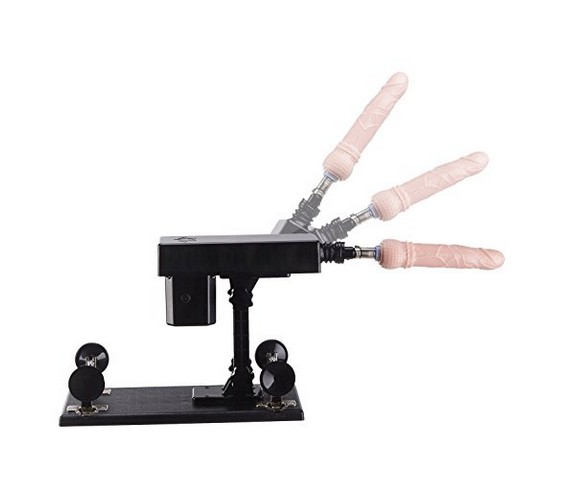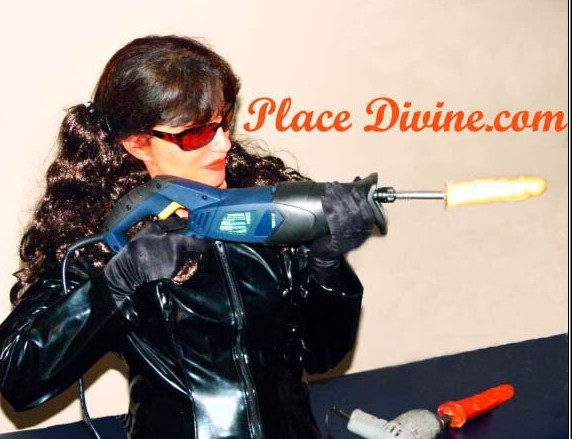 The most enjoyable toy: The Magic Wand and latex bag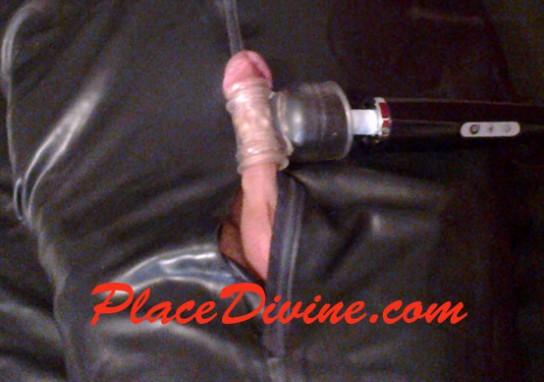 Mind Fuck, Mind Control
Animal role play, (horse, pig, dog)
Plushophile: if you like your plush animals, bring them or I will provide mines.
Electrical play, tens, probes, sounds, torpedos,
Consensual blackmail fantasy role play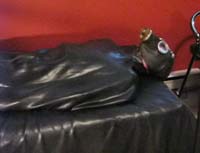 duct tape wrapping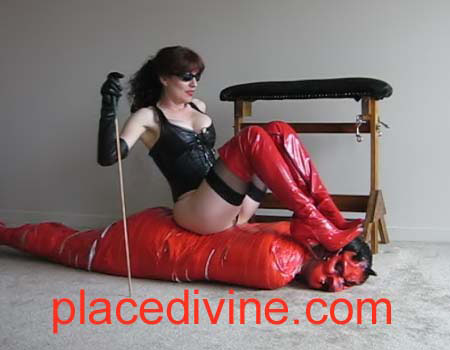 _____________________________________________________________________
Medical play: basic exam to full body inspection: temperature taking, stethoscope, blood pressure, sounds, rectal exam, enema (not longer providing this service), urethral sounding, penile and testicular exams for cancer prevention and detection, gynecological exam, test of nipple sensitivity, needles, prostate exam and massage. You can also be tied, gagged, blindfold during exam.
______________________________________________________________________
I also partake in some more extreme activities, not for the faint of heart!
Burdizzo
Coprophilia: Scat (Brown showers) (no longer offer this activity)
Branding
Staples
Scarification
Needle Play
Erotic asphyxiation, breath control play
_______________________________________________________________________
Footwear
My collection of over a dozen pairs of custom thigh-high boots, in leather, patent and rubber, will delight discerning boot fetishists, also as many sandals & shoes, I will likely tower over you in 6″ fetish high heels. Here's a great link on how to give a foot massage. One of Mistress's great pleasures
Violet wand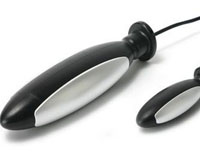 Zeus Electrosex Torpedo Plugs. It is the ultimate orgasm without touching yourself. These cucumber shaped plugs are simply electrifying. They can be used anally or vaginally. Most start off with the small size anally and then work their way up. Once inserted you can experience a mild or wild sensations of pleasure depending how much power you give these torpedoes. Small: 3 inches long, 1 inch wide Large: 6 inches long, 1.5 inches wide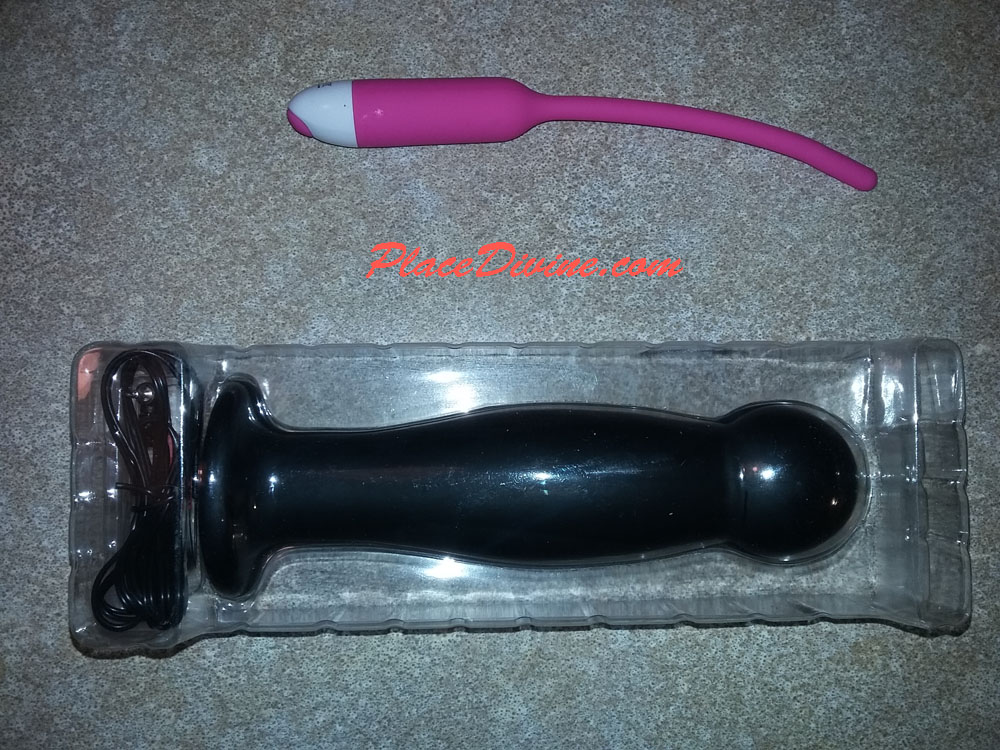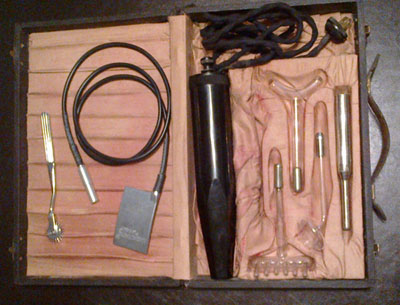 Zeus electrosex band: Same as the above but for your penis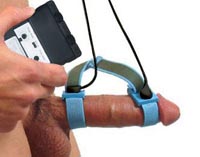 Ball-squeezer stand, humbler, weights for ball stretching: All new toys! Focusing on your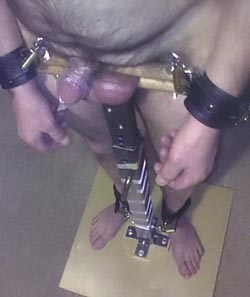 genitals torture.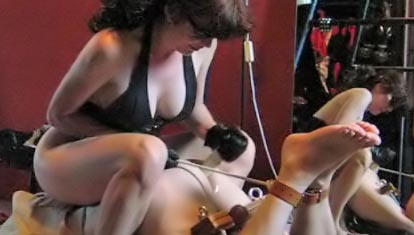 FUCKING MACHINE
This restrictive device locks the slave's hands, ankles and neck in steel completely immobilizing them. Then the fun starts with my optional Fucking Rod. Great for bondage, humiliation or just a good fuck and orgasms!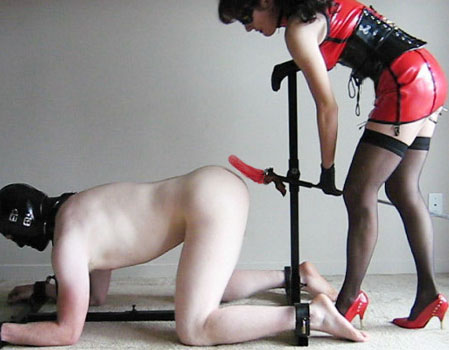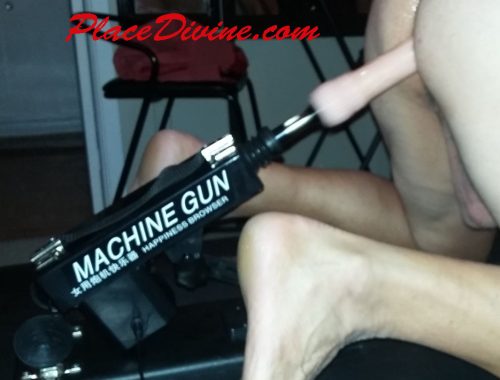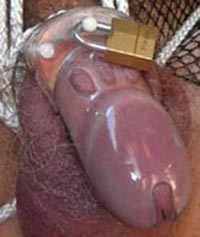 CB 6000, 3000  Long-term chastity key holder (with cb 3000) I control you orgasms. This is an extremely powerful and effective relationship device. You will think constantly of me while you are wearing this device and I holding the key…things will never be the same…they will be much better! After you have been in it for a short period of time,  you will worship the ground I walk on. Men love power and knowing I have exchanged this power, it will bring you to your knees.
Prostate stimulation: The prostate is often called the male G-spot, as it is a source of sexual pleasure for almost every men, it is connected directly to their orgasms. Prostate massage involves massaging the prostate through the anus by hand, or with a massager or electro-stimulation. Each individual responds to prostate stimulation differently, it basically depends on the individual's physiology. Some men experience almost violent orgasms while others may have normal, but extremely pleasurable orgasms. Then there are others who don't even want to bother, and yet other men who don't enjoy the sensation of it at all! So the best advice, if you are unsure about your own personal feelings about this, but are curious and highly aroused by the idea, just ask me!
Jenning: T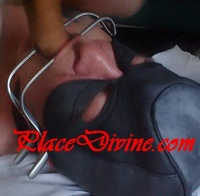 his metal object will keep your mouth opened to force you to do despicable acts.
Gag:  A cloth tied over the mouth and nose, the purpose is to prevent talking or screaming, there is also ball gags, duct tape, penis shape gags, etc.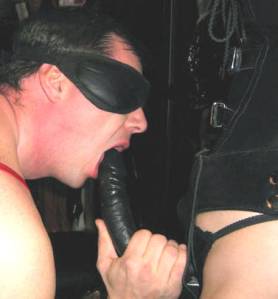 Dildo training: All my dildos & vibrators for anal and oral training are covered with a condom, if you prefer yours, bring them! I have all sizes and also power tools. Fingering for those who can't take any of these!
Enema: I no longer offer it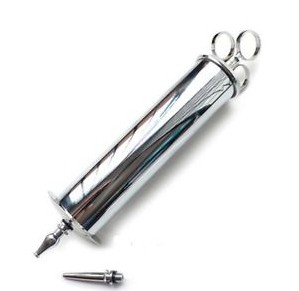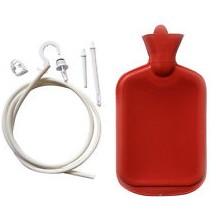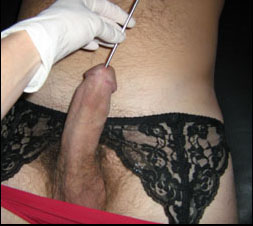 PROBE AND SOUNDS INSERTION with or without electricity: My probes are always sterilized by boiling them for a minimum of 20 minutes and by washing them before and after with Isopropanol 99%. The insertion is in the urethra and or in the anus. It is a new and unforgettable sensation at the great surprise and enjoyment of my followers!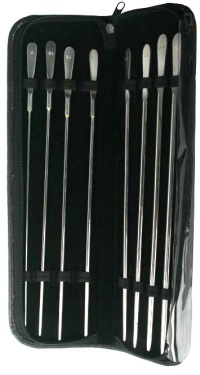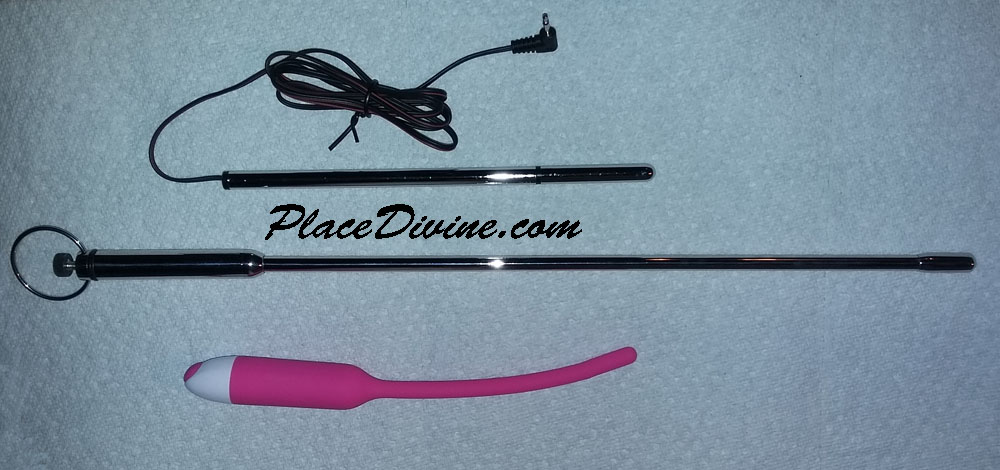 TRAMPLING: Done with my delightfully scented bare feet, or with stockings. For the shoe fetishist: Shoes, sandals or boots. By gliding over the body, giving just enough foot pressure, this relieves tension. It is like a massage while you worship my pretty feet. For those, who are more extreme, I can use my spiked heels.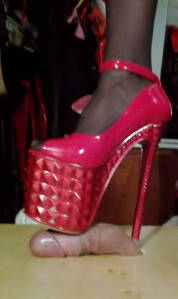 Adult baby (no longer providing this fantasy) Did you ever dream to come back into your child time and be bottle fed and nurtured? I can provide diapers, baby powder, bottle, pacifier, bib and baby food. After his bubble bath, if he did a mess, perhaps the disobedient baby will have to do corner time and he will deserve a bare bottomed spanking. I don't breast feed, but you will be pampered like a big baby. Babies can also bring their favorite toys.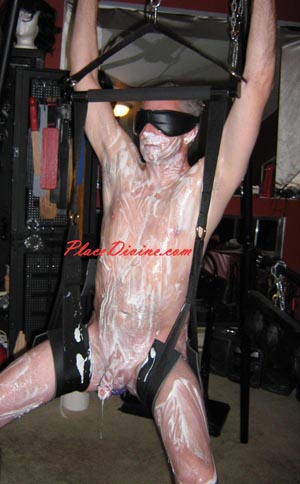 Flying suspension: Can you imagine being tied tight, without touching the floor? I will have access to every part of your body just for my own fun!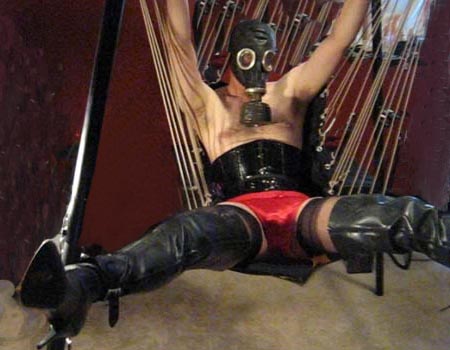 Suspension: It is one of the most common requests, from my many bondage fans. Bondage games, makes the sub totally vulnerable to my whims. He cannot escape and he is completely available between my hands, no escape…at the mercy of my perversions.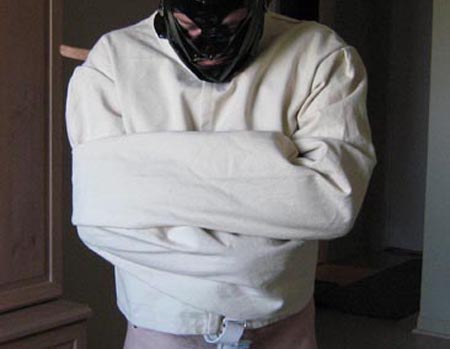 Strait jacket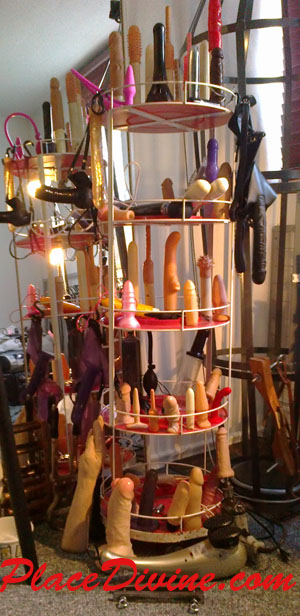 Antibacterial cleaners for my toys, bring your toys if you feel unsecured