Testimonials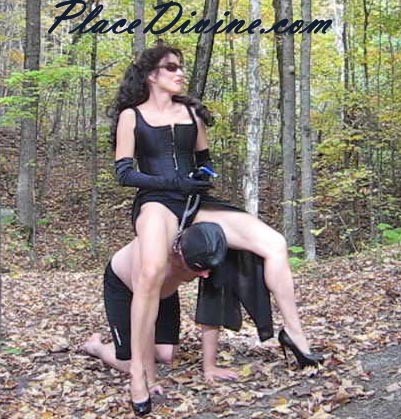 I like to receive your comments, even if it wasn't your cup of tea. Keep in mind you are here to serve Me, not the other way around. Your "main goal" is to please Me at all time.
Slaves come and go, and some may never come back, that's OK, or they may change their mind and come back, and that's also OK. Isn't it nice once in while not to take ourselves too seriously and just having fun?
I like to receive your comments about  your experiences with me, I will post it to share with others. I appreciate to read them with the spicy details, the better they are!

Maîtresse Cathie La Divine
—————————————————————————————————————————————-
Mistress,
Your voice is the best, soft soothing, everything.  Your outfit was to die for!   The squeak of your leather was the best along with the crinkle of my diaper.  The kicks in the crotch turned me on alot. Wished I could of stared at you a bit more instead of the floor but those are Mistress's rules.
On a sad note God has punished me by giving me a toddler's penis and a diaper  fetish, go figure. Positives : WE have a little age gap perfect, You are super sexy (drool) And I always wanted to get diapered by a slightly older women in leather, my dreams are fullfilled.
Your big babyface 25
———————————————————————————————
Mistress,
How do you put in words feelings that have been bottled for so long. That I was happy to once again come under  your control is hard to explain. If one word can describe the feeling it is the word HEAVENLY. Finally I am in a place of worship.
You say what do I feel on rediscovering you. How does a bird feel when it first flies, how does an animal feel when someone pulls a thorn from its paw. It is elation plus relief to find someone who understands your needs and  does not make fun of them. Feeling are the very root of who we are. I am a lonely boy who needs to feel wanted and understood. You bring all those feeling to the surface. You are all things strict but loving, knowledgeable in understanding needs without making someone feel foolish.
When you walk into a room all eyes are upon you, men lust for you, women envy you. You carry yourself with poise, a royal look. You are the essence of a woman. Your beautiful toned body shows that you take care of yourself. Some women need makeup to acquire beauty, you do not. You have gorgeous hair, a beautiful smile, a figure that is without doubt one of beautiful proportions. There are some women who are a shell, beautiful on the outside, but empty on the inside, this is not you. As well as being beautiful on the outside, you are a caring individual with both a serious side, and a funny side. When you laugh or smile the whole room lights up. It is no wonder that men want to serve you and be in your presence. I know that I do.
Little Boy Teddy Bear
_______________________________________________________
Dear Ms Cathie La Divine,
I want to thank you for spending some time with me. I have learned much. I was expecting the "bums rush", but I received a very erotic encounter. I am so pleased that you took the time with me. I can't wait to serve you again. I enjoyed it when you punished me, when I was at your mercy, when you had total control over me, and when you took me. You are much more beautiful in person than I could have hoped for. I just wanted to thank you and hopefully you would allow me to serve you again.
Your slut, sev
———————————————————————————————–
Maîtresse,
Thank you for the photo! WOW – This is a really good one and WOW You are so beautiful! This photo is 'tastefully done'! And I'm so proud of my contribution.
What else to say about "Golden Shower"…WOW! On the form, I have indicated that i will be 'willing' to try but I was surprised how it was a turn on – in all angles : To lower myself as a 'toilet', to be rewarded of the view, to be rewarded of the gift of receiving something from You, and it's also very intimate, I think … it's a punishment and an honor ….and 100% turn on, especially in the bathtub, To tell the truth, it's a bit embarrassing but really… I liked it! A lot! Merci!  WOW sub marc
Mistress: What else to add…next time, it will be in your mouth and to add some spice, I will drink ginger tea instead of water.
————————————————————————————————————
Dear Mistress Cathie
I want to thank you for our last session and the photos you sent. I take great pleasure in being dominated by you during our sessions. As I have said following some of our sessions there are some things you try on me that I like less than others but this is your choice. If I need to be slapped to teach me a lesson then I deserve it. If you had not tried new things on me during our many sessions I would have never experienced many sensations that I have truly enjoyed. As the saying goes..you don't know until you try it.
During my initial visit when I filled out the form and indicated what I liked and didn't like, I had no idea how much I would enjoy many of the things I first thought I would't like. I have come to really enjoy being turned into your slutty bitch and performing for your pleasure.
I know I am releasing total control to you. I really enjoy to be dominated by you and please make me your bitch slut again.
I find you to be extremely sexy and many of your outfits do a wonderful job of enhancing your beauty and your power. Your loyal and slutty bitch J.
————————————————————————————————————————
Dear Mistress
I want to thank you very much for making my fantasy come true during our last session. You played the role perfectly greeting me at the door as a new job candidate in a hot leather skirt and top and you quickly turned into a sexy mistress and took control of your potential boss and taught me who was really in charge. I enjoyed going from your potential boss to your sex toy bitch, being at your mercy, being slapped in the face and having you take control of my cock and my nipples. Then having you take total control by having my legs and arms chained in the air and having you fuck me hard and long with your big black cock. I wanted to cum right then but you had my own cock locked up tight and this only added to the pleasure of watching you thrust in and out of my tight ass.
I truly cannot wait to have you turn me into your little bitch again soon. I would love to see you in your tightest black latex outfit with your tallest black boots so that you tower over me as you gag me, slap me and lead me around and really make me your bitch that you take pleasure in watching get dressed up as a sexy slut and forcing me to turn into your boy toy bitch as you make me dance for you.
Until next time my Mistress Goddess
Mistress:  Dance you will! I can see you really have put a lot of efforts in your choreography and I enjoyed watching you!  How uncomfortable you were day 1 to compare to now! I'm impressed!
______________________________________________________
Dear Mistress Cathie,
Just would like to take this opportunity to thank You for a great session this morning.  We'll have to get You longer gloves for the next session as You appeared to the enjoy fisting me as much i enjoy You doing it.  You seemed to have smile of satisfaction and an eagerness to keep going further and twist more.  At O/our next session i suspect i may be in for some intense 'fun' at Your hands.
i think You were surprised at how much i love Golden Nectar.  Thank You for providing so much.  There is no taste like it.
i would be remiss if i did not comment on how beautiful You are and how absolutely sexy You look in Your outfits.  i will obey Your rule about looking down at Your feet however, You should know i truly did enjoy gazing into Your eyes.  They are quite alluring.  Fantastic combination with the devilish smile…..
The morning session sure made the afternoon go by.  Couldn't wait to send You the Thank You.
Until O/our next session, that is if You will grant me the honour of permitting me to Serve You again.
Thank You again Mistress Cathie.
Your humble slave,
probe tester.
Mistress: They all say they are into this or want to try, but after a few drops, I can see them frowning, obviously not their forté, and you OMG, if you could you wouldn't miss a drop! I like the eagerness in you! Maybe next time I will add ginger flavour, asparagus or broccoli and see if you will still like it!  hahaha!
Be careful what you wish for!
___________________________________________________
Good evening Mistress,
i just wanted to tell you how great it was to finally meet you and to be your toy. i was very nervous at first and you were very helpful making me feel comfortable. You are the first Mistress and only Mistress I have served and I have to say it was wonderful.
You are so beautiful! Your beautiful feet and body was truly a pleasure. You have a beautiful physique and i feel lucky just to be looking at you. Your long sexy legs and beautiful black boots were such a turn on for me. Thank you for letting me clean them with my tongue!!
i liked how you dressed me up as a maid with that nice corset and red tall boots, as you may have noticed i have not had a lot of time practicing wearing high heels. The feeling of your whip on my cock was unbelievable!! And when you slid that dildo in my ass and started drilling it, i was so humiliated and greatful that you allowed me to serve you like a bitch.
It was an honour to be in the presence of a Mistress with so much class. Thank you so much Mistress and i look forward to another session soon.
slave d
_____________________________________________________
Thank you Mistress for granting my wish during our last session. Your outfit was perfect and it truly highlighted your beautiful and sexy figure. My fantasy was fulfilled when I was able to kneel at your feet and lick and kiss every inch of your tall black boots. I am weak in your presence as your tall boots allow you to tower over me and as I watch you walk and hear your heels on the hard floor. Your second outfit with the shiny PVC halter top and tight shorts did an equally fantastic job of accentuating your incredible form. I was at your mercy as I admired your beautiful breasts and tight round ass while you permitted me to lick and kiss your luscious toes.
I must say overall this was the best session we have enjoyed together and I only hope I was worthy of you mistress. I know I am only in your presence to serve and please you mistress but I was blown away with your new toys and new situations and I must confess that I too received tremendous pleasure from our last session. I cannot stop thinking about it!!!
You have introduced me to new and exciting situations during each of our sessions together and this one was no exception. Thank you for being such a patient and strict teacher. I hope I can continue to be worthy of you in the future. I hope it won't be too long until our next session and the opportunity to serve you again mistress.
I love the new photos you have shared with me and I look forward to receiving any other you wish to send.
I will review your updated wish list of items. There are many things I want to spoil you with that I know you will enjoy and that will look beautiful on you.
Your always loyal and willing slave
J
Mistress:  The shiny tall boots and the luscious, perfect and delicate toes still want your mouth to revel on them! And strictly for physical gratification.
____________________________________________________________
Mistress,
If you would permit me, I would add that you are wonderfully articulate and tremendously sexy. If you permit me to return it will be for more than the way that you treat me, it will also be because the time I spent with you was very valuable.
I must admit mistress that upon reflection, my only hope is that next time, provided I keep you happy and please you, I might be allowed a few more personal interactions with you Mistress. I think about the possibility of the elements included in your list, like smelling your underwear, golden showers, and so on. Thank you again! slave robert
Mistress: An hour session is very short for all the fantasies you have underlined on my form. Next time if you want to add more elements, instead of one hour session, book for at least 1 ½ hour so you will feel less deprive.
______________________________________________________________
Hi Mistress,
I met you few years ago and about a year or so, I booked an appointment without showing up and without communicating back to you, and I will always apologize for this. It has been a rough year, I am now in a good frame and would like to get back to where were before lots of fun and good communication.
I am still a foot lover and white stockings and was exploring on one occasion dildo play. I am again going to ask you forgiveness and hope that I can still see you again. I find that you are the only one that I can trust and over the years. If you can trust me again I am begging you to let me visit you again!
servant paul
Mistress: Prove & show me you are truly apologetic !