FAQ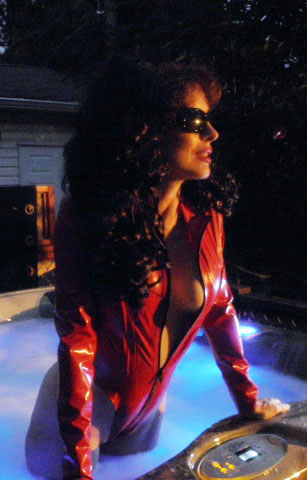 Frequently Asked Questions:
1-Q: Who are you? What do you do?

A: I am an enchanting Dominatrix, who takes great pleasure to be surrounded by men and women who thrive to serve and to be treated wretchedly while being gratified. I offer sensual agony, tease and denial sessions are exactly what bring you closer to Me. I go where you wouldn't suspect you could go. Eagerness to prove your faithfulness to Me is all you can think about and become Mine. Goddess Worship is not a religion, it is a way of living. Visit Dungeon page to see the list of your possibilities.
2-Q: What will you do to me?  I have never been with a Dominatrix before. Should I be worried?

A:  No! I  love to guide novices through their new experience. It's one of my specialties.  All my scenes are exciting and grueling to some but don't ask me to describe what I will do to you accordingly to your fantasy and from some details you may told me, this is not revealing especially I don't know you and how you will react in person! There is no "standard or typical" scene. I will be tailoring a scene to fit your needs.
3-Q: I'm afraid you will leave marks and I don't want pain. Is it possible without marks or pain?

A: I will never do things against your will, no pain & no bruises, or anything harmful. I'm not a monster who will destroy you. I understand that you don't want to explain why you have marks. Unless this is a fantasy you want but I will NEVER do things to send you to the hospital. We won't do anything illegal, dangerous, without your consent. During our session, it is not prohibited to interrupt the scene if we need to make adjustments. Of course I will test your limits to spice it up!
4-Q.: Can i be Your sexual slave?
A.: Absolutely, you can engage your debauchery and sexual appetite at My feet.   What you have between your legs I own it, I control it, and I do what ever I want with it! I will teach it how to prolong pleasure to my enjoyment.
5-Q: What is the best way to plan a session and obtain appointment with you?

A: I find it far more efficient to plan you session via email. Please don't call to plan your session, phone is not to ask questions but to confirm your time one hour before your session. Be mindful of the fact my time is precious to me, therefore be short and precise in your request, it will be rejected if there is more than 15 lines. Write what you want to experience. We will have plenty of time to go into details when you are in my presence before the session begins and this time will not be taken from your session time.
If I haven't responded to your email request or call within 48 hours, DO contact me again. It may got lost in the process. Visit contact page to obtain my email and pager # and session fees. Once your time with me is reserved by email, on the day of your visit, you must reconfirmed by phone or email one hour before the time of our meeting.
24h notice is preferable but I do accept one hour notice, if I'm available.
6-Q: Do you accept dominant male?
A: Yes, by nature most men are dominant! Most of my clients at their work are in positions of power. They come to me to play the opposite side, to unwind, not have to think and to be told what to do and to have unforgettable exciting moments. Out there you may be a gladiator in a suit, however, when you are in my presence, you leave your testosterone at the door, next I set the rules and you become a Jappi Toutou with your tail between your legs and obey!
7-Q: Do you have positions for personal slave?
A: I would consider with established connections + a monthly $1500 gift in cash. I do offer session where you become a personal slave. Contractors, renovating houses, wood makers, are my ideal personal slaves. This is not an exchange of services and it's not a 24/7.  If you can't afford a session with Me right away then save up or use your credit card like all the other activities you do or things you buy.
8-Q: Where are you located ?
A.: In the National Capital Region, few minutes from the Parliament Hill, Ottawa, Canada, Near the Chaudière bridge at Little Italia quarter, a very discreet location.  I am 15 minute drive from the Ottawa airport.
For discretion reasons that my customers value very much, my exact address will be given to you when you have booked your session with a deposit.
Parking:
I know how much my subs appreciate my discretion, that is their huge concern and that is why I chose my new play space according to your concern.
And if you don't want to pay for parking during day time, the streets side, around the corner of my new play space, parking is free for one hour, 2 hours and 3 hours,  after 5 pm to midnight, no limit of time as well on week-ends all day long!
For accommodations:  hotels
You can spend an hour to up to a all night at my dungeon, see contact page.
9-Q: Will I cross and face other clients when visiting with you?
A:  Many clients are very paranoid about their visit, it's by appointment, no one arrive unannounced and you will never come face to face with my clients. I give plenty of time between sessions, if you have the need to chat after your session, please schedule your time accordingly. Instead of one hour, book one and a half hour so we chat without being rushed by time and won't come face to face with my next appointment.
It's a secret place, I don't post my address for the reason I mention above, you will only obtain my address when you schedule for an appointment.
10-Q.:What are your stats?
A.:
Height : 5'5″
Weight : 120 lbs
Hair : brown
Eye Color : brown
Chest : 36c
Waist : 26
Hips : 37
Shoe Size : 8
Other details:
Smoke : No
Alcohol: no
Coffee: no
Soft drinks: occasionally
Drugs: no and no medications
Tattoos: none
Piercing: none
Only one addiction: sex, and footwear and corsets don't count
Race/Ethnic :  Caucasian, Quebecker, French Canadian, with German, Irish and Aboriginal background
Body type: petite frame, but curvy where it counts, busty, shapely bottom, small waist
 11-Q: I don't have experiences, experience needed or not? Do you accept newbies?
A: Yes I accept newbies. Whether you're a new or experienced in the art of BDSM.  My goal is to bring you in that state! I have mild introduction scenes (no pain) for a newbie and intensely tailored scene for a more advanced bottom. What is enjoyable about newbies, they are fresh, they have desire to learn. They may be clumsy at first but this add charms to their naivety. See dungeon page for your options.
 12-Q: Do you travel? When will you come to my city?
A: Yes I do, for Toronto, Kingston, Montreal and Quebec: Send an email to be on my list. I will contact you when I set a date for your city. For my hourly fee click on black icon at contact page where it says click here.
13-Q: Do you travel abroad?
A: Yes! I have joined gentlemen on their business trip as an assistant or girlfriend with a twist.  I'm happy in just about any environment, in business meetings, for excursions, skiing, beach or sightseeing. My travel time may be limited I have a busy schedule, so make your request well in advance. Please visit my "contact" page for more details.
What you are responsible for:
–  Round trip business or first class flight, including travel expenses: room, meals, etc.
–  hotel: 4 stars minimum and make sure I have my own room to myself only.
– All tributes and travel expenses must be remitted in advance of booking my trip.
14.-Q: Where exactly do we meet?
A: see answer #8, but we can meet worldwide! I have been in Dubai, Abu Dhabi (UAE), Muscat (Oman),  Toronto, Kingston, Montreal, Sherbrooke, Quebec, Vegas, Detroit and Thailand. When I announce my visit to your town or country and you want to meet me, you only have to pay for your session. If you want to see me in your town or country, see # 13, or send me your email to be on my list for my next visit in your town.
15-Q: Do you have videos?
A: One of the reasons why my clients come to see me, they want discretion and privacy. An encounter like myself is meant to be discreet, intimate, very personal and treasured. You know you can come with your mind at peace, you will never be filmed. Therefore I don't have videos an even with your consent, I simply will not film. Every encounter is different in many ways and cannot be compared to another. If I had videos, you will think this is what you will exactly get, and may not be your cup of tea. Each session is tailored to subs specific needs. (I only have promotional videos on my blog)
16-Q:  I'm really concerned about the cleanliness of your toys, probes, sounds, etc. Are they safe?

A: Between each session, ALL toys and tools are washed and sterilized with Isopropol alcohol, antibacterial soap and objects such as sounds, speculum, enema nozzle are boiled in water for at least 20 minutes. Also condoms to cover all dildos & vibrators. If you wish to bring your toys, you are welcomed to do so.
 17-Q: What does your dungeon look like?
It's in a discreet building with no immediate neighbors in the building, clean and secure,  heat/AC, play-space with a shower, bath tub, toilet.  You can take a shower before and after session, (to ask when you book)  room with a bondage bed, other rooms have  lot of  bondage devices for bondage, table, bench, punishment horse bench, interrogation chair,  cbt chair, worship, throne, suspension rack, fuck machine, metal bar with shackles, rocking fucking bench,  toilet for GS, ball-squeezer stand, humbler, ball crusher, burdizzo, weights for ball stretching, chastity devices, tens, sounds, latex bag, straight jacket, dildos & vibrators of all shapes and sizes, fuck machine, magic wand, violet wands, whips, cats, canes, riding crops, paddles, etc. Always new toys coming in, you will be cock-a-hoop!

18-Q: I want to maintain a D/s 24/7 relationship, could you refer me to someone, one of your lady friends?
A.  There are plenty of online matching sites, with effort and patience, I wish you good luck! If unsuccessful, retain my services, that is why I exist for the unlucky ones who can't find their soul mate and wish discretion.
 19-Q: Are your rates negotiable?
A: The gentleman with whom I choose to spend my time wouldn't even consider asking. I'm generous with my time when a gentleman is generous with me.
20-Q: Can I meet you outside your dungeon for coffee / cocktails to see if we have a connection? Do you offer social time?
A: Yes absolutely, but the donations for my time remain the same.  Please do not make offers of social situations without compensating me for my time.   Kindly realize and remember although I enjoy our time together I am a professional Dominatrix and I prefer to keep our relationship on this arrangement.
I do offer consultation online or at my dungeon, if you aren't sure this is for you, you can express your fear, your desires and concerns and goals. See page: https://placedivine.com/web/skype-email-phone/
21-Q: Do you accept women and couples?
A: Absolutely!  I love to train and play with women and couples of all genders.
 22-Q: Why on your photos you wear sunglasses? Can I see your eyes?
A: Yes, you'll be able in person, but here on this site, as it is also important for you, to have as much anonymity as for my personal security reasons, like you, I value my personal life and my privacy as I respect yours.
23-Q: What is your cancellation policy? I have paid a deposit and have to cancel.

A: It is unlikely that I am able to fill a last minute cancellation. There is no refund, my donation for the cancelled encounter will be expected in full prior to booking any future encounter. Many have this tendency to book and pull a no-show.
You have 48 hours notice to cancel but your deposit will be applied to a later date and you will have to pay in full on your next booking reservation.
If you have a tendency to cancel, I will require a full payment on future sessions reservations or  your request for future sessions will be declined.
N.B. : For most sessions, I ask for a deposit or to prepay. Only when you have proved yourself worthy (not being late or no cancellation) you will be allow to pay cash in person. See contact page for fee and more information
24-Q: BLACK LIST
Get it right the first time. No negotiating. No exceptions.